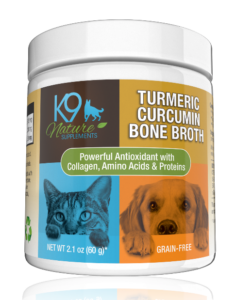 If you're anything like me, a passionate dog Mum, you are very selective about what you feed your "babies" that includes food or treats, and what vitamins and supplements you give. 
Today I am so excited about this new supplement called Turmeric Curcumin Bone Broth. It is a game-changer! 
The ingredients are amazing and rich with healthy items for your pet. I make my own dog food, so I can tell you that I don't just give my Frenchie's whatever is on sale or a good deal. They eat clean food enriched with organic turkey meat and vegetables. To be honest, they eat better than I do. 
The company is called K9 Nature Supplements and they had me at this description:
"At K9 Nature Supplements, we're passionate about healthy dogs. .
Our mission is to make a difference in our dogs' lives by providing natural and holistic options to keep them healthy and happy from puppyhood right through their senior years."
Bingo! That's what I want for my beloved babies too. Who doesn't? 
This Turmeric Curcumin Bone Broth is packed with collagen, protein, amino acids, vitamins, and minerals so that our dogs will live long and healthy lives. As pet owners we want our dogs to last forever, but sadly that isn't an option unless you have them cloned and I don't know if I want to do that. Cloned Gigi and Codi is not original Gigi and Codi, right?
Anyhoo, this product promotes joint, heart & liver health, supports immune & digestive systems, and helps with energy and brain function. Sounds like a solution everyone can get behind!
Turmeric Curcumin Bone Broth has organic coconut milk that enhances the ingredients to absorb all the nutrients to ensure your pet gets the optimum benefit for boosting joint support and weight management as well as assisting in cognitive function and energy levels. Don't we all want our pets to be full of life and want to walk or play with us daily?
I love that this company is in the USA and that they offer a 100% satisfaction guarantee for all their products. Say what? Mind Blown! 
To use this product you can either sprinkle it over your dog or cat's pet food OR bonus, you can add water and make gravy and stir into their food. I have used both options and my dogs lap up this gravy. Clean bowls for both of my dogs. 🙂
I also love that I can pronounce the ingredients as well. Infused with Chicken Bone Broth, Organic Coconut Milk, Turmeric Curcumin (95% curcuminoids extract powder) just to name a few. 
In my opinion, this is the best supplement I have found that my dogs love. My Gigi is quite picky with food, treats, etc, so I worried if she would eat this, but she did and loves it. 
I can honestly recommend this solution and feel great about it! Give it a try, your pet with love you even more!